One of my favorite recipes for all types of celebrations is Scott Cunningham's Crescent Almond Cakes. I have been making them for over 15 years, and they never disappoint! You can find this recipe in his book "Wicca for the Solitary Practitioner," and you can also find it in his other book, "Cunningham's Book of Shadows."   Even though he has been gone since 1993, it still amazes me how even today, he is an integral part of both Esbat and Sabbat pagan celebrations all over.  The second recipe I am posting is for Sabbat cakes.  I have not made that one before, so I would love to hear your feedback if you try it!
These can be used in any Esbat or Sabbat ceremony.  I am particularly fond of them for giving thanks, as they are perfect for a gratitude Ceremony.  If you are interested in a 2021 Mabon Ceremony, you can check out our sister site here, Raven Moonlight Botanicals, for our 2021 Mabon Ceremony!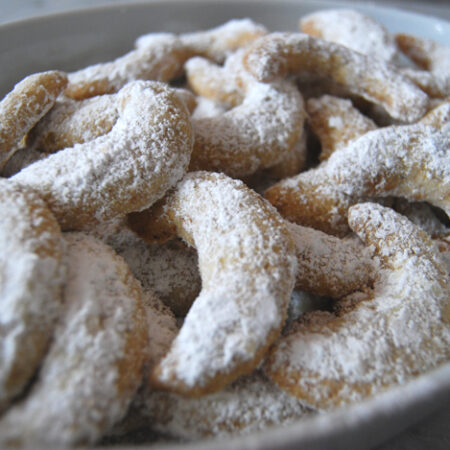 Scott Cunningham's Crescent Cakes
Ingredients
1

cup

Almonds, Finely Grated

1 1/4

cups

Flour

1/4

cup

Confectioner's Sugar

1/2

cup

butter

1

Egg Yolk
Instructions
Combine almonds, flour, sugar, and extract until thoroughly mixed. With the hands, work in butter and egg yolk until well blended. Chill dough. Preheat oven to 325 degrees F. Pinch off pieces of dough about the size of walnuts and shape into crescents. Place on greased sheets and bake for about 20 minutes. Serve during The Simple Feast, especially at esbats.
Notes
Note: I always add a sprinkling of Confectioner's sugar as soon as they come out of the oven for a tasty sugary top!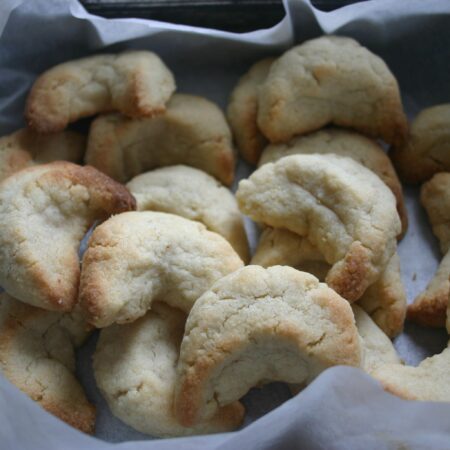 Scott Cunningham's Sabbat Cakes
Ingredients
3

tsp

Honey

1/3

cup

Shortening

1/2

cup

Brown Sugar

1/4

cup

Applesauce

1

Tbsp

White wine

1 1/2

cups

Whole grain flour

1 1/2

cups

Oatmeal

1/4

tsp

Bakng soda

1/2

tsp

Salt

1/2

tsp

Allspice powder
Instructions
Blend honey, sugar, shortening, sugar, applesauce, and wine. Add remaining ingredients, mix well. Form into a ball of dough. Roll out 1/4 inch thick and cut using a crescent-shaped cutter (or form a crescent). Place on greased cooking sheets and bake at 350 degrees for 15 minutes or until golden brown.
Enjoy the Sabbat, everyone!