---
Cooking and trying new recipes is an ever-expanding realm. Whether it's trying exotic vegetables, working with new spices, or simply putting together an entire dish you've never even tried before, it all comes down to trial and error.  One seasoning you may have never used is black salt. Here's what you should know.
What is Black Salt?
A unique Hawaiian-inspired sea salt, Hiwa Kai has a stunning black color and silky texture. This all-natural salt offers the same bold flavor and texture as traditional sea salt but with an added beauty and intrigue indicative of gourmet foods. Hiwa Kai is created by combining high-quality sea salt with activated charcoal from the shells of coconuts, resulting in this unusual seasoning with its rich, dark color & hard, granular texture. Hiwa Kai is famous for the foodservice industry as a stunning garnish to dishes.  The charcoal complements the natural sea salt flavor, giving it a bold and unique taste with smoky overtones while also promoting detoxifying health benefits and can be substituted for regular salt during an overall body detox course.
It is important to note that Hawaiian black salt is not the same as Indian black salt.  Hawaiian salt has a stronger flavor and does not have that sulfur scent due to mineral content.
How to use Black Salt
It's essential to make sure that you're using this ingredient with the right type of dish to start. Often, black salt is excellent for vegan dishes, especially egg-substituted ones. Take a look at this small list of dishes where you can make use of black salt.

All types of Fish
Vegetable dishes or fresh salads

Fried Foods
What's a Good Recipe to Start With? 
We are so glad you asked! Getting familiarized with new seasonings can be pretty intimidating and quite costly if you accidentally ruin your dish.  That's why trying it out with our Black Salt, and Pepper Roasted Cashews is a great introduction. Take a look below and try your hand at it! You will be glad you did!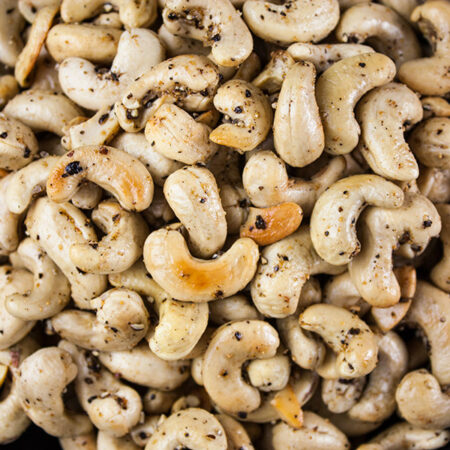 Black Salt and Pepper Roasted Cashews
Ingredients
2

tbsp

Canola Oil

1

tsp

Cayenne Pepper

1/2

tsp

Black Peppercorns, Whole

Ground

1/4

tsp

Black Hawaiian Salt, Coarse

Ground

1/2

tsp

Sea Salt, Fine

1

lb

Cashews

Raw
Instructions
Warm the oil in a large skillet over low heat. Add the cayenne, black pepper, black salt, and kosher salt.

Cook and stir until the spices are very aromatic, about 1 minute.

Add the cashews, turning and coating them well with the spiced oil.

Continue to cook, stirring constantly, until the cashews are blistered and a mottled brown, about 4 minutes.

Let cool and enjoy!