Holiday time is the time to discover new tastes – and what better way to explore than with cookies! Here are some of our favorites that we are sure you will love this holiday season!!
For Gingerbread Dog Treats recipes click here!
Earl Grey Tea Cookies
This is a slice-and-bake shortbread-like cookie with a hint of Earl Grey tea and lemon. It is a pretty simple cookie with only a few ingredients. We got this recipe from Janet @ The Taste Space. Try it and tell us what you think!
INGREDIENTS:
2 cups all-purpose flour
2 tablespoons finely ground Organic Earl Grey Tea leaves
1/2 teaspoon salt**
1 cup (2 sticks) unsalted butter, softened at room temperature
1/2 cup confectioners' sugar
1 tablespoon finely grated lemon zest
DIRECTIONS:
1. Whisk flour, tea, and salt in a small bowl; set aside.
2. Put butter, sugar, and zest in the bowl of an electric mixer fitted with the paddle attachment. Mix on medium speed until pale and fluffy, about 3 minutes. Reduce speed to low; gradually mix in flour mixture until just combined.
3. Divide dough in half. Transfer each half to a piece of parchment paper; shape into logs. Roll in parchment to 1 1/4 inches in diameter, pressing a ruler along edge of parchment at each turn to narrow the log and force out air. Transfer in parchment to paper towel tubes; freeze until firm, 1 hour.
4. Preheat oven to 350F. Cut logs into 1/4-inch-thick slices. Space 1 inch apart on baking sheets lined with parchment.
5. Bake cookies, rotating sheets halfway through,until edges are golden, 13 to 15 minutes. Let cool on sheets on wire racks. Cookies can be stored in airtight containers at room temperature up to 5 days.
Makes 2-3 dozen cookies!
---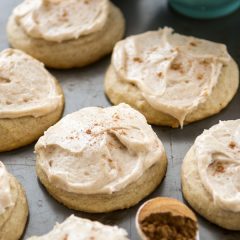 Pumpkin Spice Sugar Cookies 
These pumpkin spice sugar cookies are filled with pumpkin pie spice. The frosting is filled with spices and pumpkin spice coffee creamer. We found this wonderful recipe at crazyforcrust.com!
FOR THE COOKIES:
3/4 cup unsalted butter, softened
3/4 cup granulated sugar
1 egg
1 tablespoon vanilla extract
1 teaspoon organic pumpkin pie spice
1/2 teaspoon baking soda
1/2 teaspoon cream of tartar
1/2 teaspoon salt
2 cups flour
FOR THE FROSTING:
3 tablespoons unsalted butter, softened
Pinch of salt
2 cups powdered sugar
3 tablespoons Pumpkin Pie Spice Creamer
1 teaspoon vanilla
1/2 teaspoon organic pumpkin pie spice
DIRECTIONS:
Preheat oven to 350°F. Line two cookie sheets with silpat liners or parchment paper.
2.  Cream butter and sugar in the bowl of a stand mixer fitted with the paddle attachment. Beat in egg and extract. Mix in organic pumpkin pie spice, baking soda, cream of tartar, and salt. Slowly mix in flour.
3. Scoop 2 tablespoon balls of dough (use a cookie scoop if you have one) onto cookie sheets.
4. Bake for 9-10 minutes. Take them out just as you notice the bottoms start to turn golden (or right before). They'll finish cooking as they cool. If they get too golden on the bottom before you remove them, they won't be as pillowy and soft!
5. Cool 5 minutes before removing from cookie sheets. Place on a wire rack to cool completely before frosting.
6. Make the frosting: Beat butter until creamy with a hand or a stand mixer. Mix in salt. Slowly add in powdered sugar until mixture is crumbly. (It will be very crumbly if using a hand mixer, more smooth if using a stand mixer.) Add vanilla and 1 tablespoon creamer. Mix until the frosting comes together and becomes smooth, adding additional tablespoons of creamer as needed for consistency. Frost.
Store at room temperature loosely covered. Frosting will semi-dry and cookies are stackable but some frosting may transfer. Enjoy!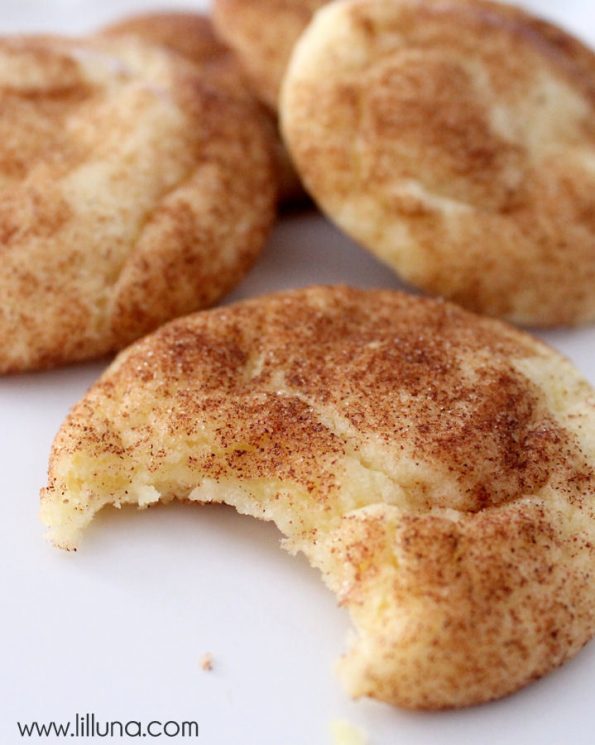 Best Snickerdoodle Cookies
What's great about this recipe is that it's easy and cookies always turn out SOFT, which is pretty much a requirement for a good cookie! We found this recipe at lilluna.com and changed it a bit to use delicious Ceylon Cinnamon instead of regular cinnamon!
INGREDIENTS:
1 cup butter (softened)
1½ cups sugar
2 eggs
2¾ cups flour
2 tsp. cream of tartar
1 tsp. baking soda
½ tsp. salt
2 TB sugar
1 tsp. Organic Ceylon Sweet Cinnamon
INSTRUCTIONS
1. Mix together flour, cream of tartar, baking soda, and salt together. Set aside.
2. Cream together sugar and butter. Add eggs and blend well.
3. Add dry ingredients to wet ingredients and mix well.
Shape dough into 1 inch balls and roll in the cinnamon-sugar mixture.
4. Place 2 inches apart on ungreased cookie sheet.
Bake for 8-10 minutes at 350 degrees.
Makes about 4 dozen cookies!
Let us know how you like them!! Send us pictures and we will post them!