Do not leave your best friend out of your holiday baking this year! Here are two tested and bark-approved recipes for gingerbread dog cookies!  We found these recipes on two beautiful websites that are listed below!
Gingerbread Dog Biscuits
By Randi Dukes, of Dukes & Dutchesses
Ingredients:
3 cups whole wheat flour
1/2 teaspoon Organic Ground Ginger
One teaspoon Organic Ground Cinnamon
1/4 cup vegetable oil
1/2 cup molasses
1/2 cup water
Directions:
Preheat the oven to 325 degrees. Lightly grease a cookie sheet. In a large bowl, mix the flour, ginger, and cinnamon. Mix in the oil, molasses, and water; let sit for 15 minutes.
On a lightly floured surface, roll out the dough 1/4-inch thick. Cut out the cookies with bone-shaped cookie cutters. Transfer to the cookie sheet. Bake for about 20 minutes until firm. Take out, cool, and beware of drool!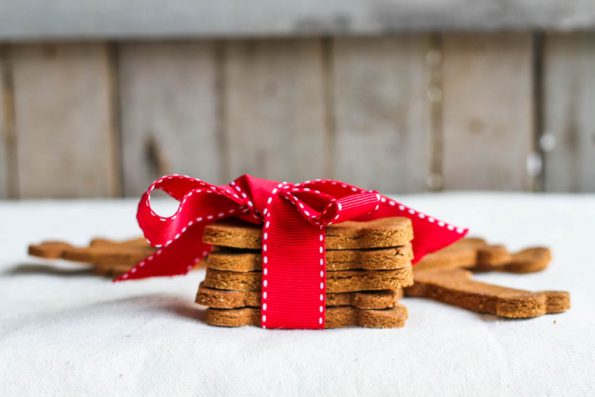 Gingerbread Dog Biscuits
By The Comfy Belly
Ingredients:
2 1/2 cups oat flour (or brown rice, or other flour)
One teaspoon Organic Ground Cinnamon
One teaspoon Organic Ground Ginger
Two large eggs
1/2 cup cooked, pureed squash (butternut, pumpkin, or other kinds)
Two tablespoons blackstrap molasses
Directions:
Preheat your oven to 350°F.
Combine flour, cinnamon, and ginger in a bowl and blend well.
Add the eggs, squash, and molasses to the bowl and blend the mixture until it forms a ball of dough. I use a mixer, but you can also use a spatula, food processor, or your hands.
Separate the dough into two balls. Place one ball of dough on a non-stick baking mat, piece of parchment paper, or counter-top with some flour sprinkled over it to prevent sticking.
Place a piece of parchment paper or other non-stick paper or mat over the ball of dough. Use a rolling pin to flatten the dough until it is about 1/4-inch thick.
Use a cookie cutter to cut shapes out and place them on baking or cookie sheets. The biscuits don't spread, so no need to spread them out much across the baking sheets. Repeat until all the dough has been cut into biscuits.
Bake the dough for 15 minutes, and then turn each biscuit over and bake for another 15 minutes.
Cool and store sealed at room temperature for a month or in the refrigerator for a few months.
This recipe makes about 24 biscuits