---
It's that time of the year again when we throw caution to the wind, and yearn for lazy days on the beach with a delicious fruity drink, that probably has an umbrella in it! But unlike in years past, there is no need to suffer through the aftermath when you are out on the town.  My tip is, always remember to pack sunscreen – it's the least you can do for your skin.  However even with sunscreen, sometimes we do have a little "after-burn".  And it tends to be very uncomfortable and unpleasant. We are here to offer an alternative to chemical filled products you purchase at the drugstore. I have personally tried this blend and it has worked wonderfully for me.  I have very sensitive skin, and no matter how much sunscreen I put on, there are always "after-effects" – Yikes!
During the summer, the best thing we can do to stay healthy is watch your sun exposure.  But who are we kidding? When you mix a beautiful day with a good book, sometimes it is easy to get carried away and before you know it, you are ready to join the lobster corps. Too much sun can be one of the worst things to cause early wrinkles and aging, sunspots, pain and even can lead to skin cancer! Taking care of yourself today can save your skin and also keep you healthy.
We have been recommending this soothing spray for a few years now and just about everyone that has tried it, has loved it.  You can the Witch Hazel at most grocery or drug stores. The oils you can get at health food stores, or my personal favorite when I really don't want to spend time looking, Amazon! This soothing spray can help take the bite out of a nasty sunburn – it should last you for a good bit, and you can make it yourself at home.  The best time to use it is after a shower.  Spray it and let your skin absorb it first, before you get dressed. It generally takes about 10-15 and during this time it can be a little sticky, once it dries and is absorbed it will feel wonderful -and your skin will thank you.
Remember, a little goes a long way!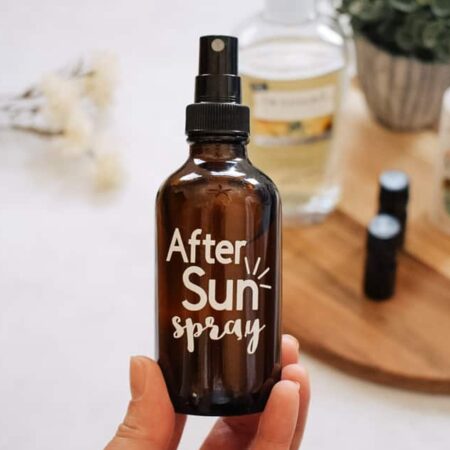 DIY Sunburn Spray
Care for your skin on those days you stayed a little too long in the sun!
Ingredients
4

oz

Witch Hazel Extract

2

oz

Calendula Oil

2

oz

Aloe Vera Oil

10

Drops

Lavender EO

10

Drops

Peppermit EO
Instructions
Mix all of the base oils and the extract. Shake well.

Shake well and let it rest for about 4 hours. The longer it rests the better it is - if you can let it rest for a couple days it will be amazing!