---
The vegetable soup blend is perfectly versatile for any recipe that needs an extra boost of plant power. The vegetables are dehydrated at peak ripeness to add flavor to any dish. This blend is perfect to use for camping and in daily life. Of course, you can use this mix along with your favorite broth and fresh vegetables. Dried vegetables save the day if you need to throw a meal together! There are many benefits to using this blend:
Budget-friendly – See the current price here.

Versatile – All the vegetables within the blend are foundational vegetables for soup, stews, curries, and casseroles. This blend has c

arrots, onion, tomatoes, spinach, celery, red bell peppers, and green bell peppers.

Easy to prepare – Throw the amount you need into the proper amount of liquid, and BOOM! You have vegetables ready to go. A small amount goes a long way.

Unseasoned – You can throw your pizazz onto a blank slate! You won't find any salt, herbs, or spices in them. There will only be their natural flavors.
How to Use the Dried Vegetable Soup Blend
Use 1 part of vegetable soup blend to 3 parts of liquid. This liquid can be water, soup stock/broth, or whatever liquid is in your recipe. Give it about 30 minutes to rehydrate. 
Ways to Use
Dried Vegetable Soup Blend
Replace mixed vegetables in a recipe with this blend.

Amps up soup broth and vegetable seasoning mix.
Prep a dried vegetable soup jar to use on low effort days

Add to rice while it's cooking (Pro Tip: Replace the water with broth for flavorful rice)
Red Lentil Curry
This recipe is comforting and beginner-friendly. The only chopping you'll do is the onions, garlic, and ginger. If you cannot find ginger, you can use ginger powder instead. Don't be afraid to replace anything you want to (except the red lentils). Texture-wise, I couldn't tell that I used dried vegetables. The mixture added a nice pop of color to the dish while adding a bold flavor. This recipe is originally from Michela at Elavegan, but it has a few tweaks.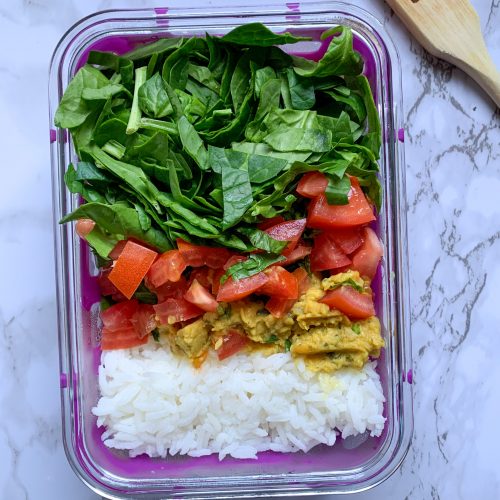 Red Lentil Curry
Ingredients
Vegetables
1 1/2

Cups

dry red lentils

1

small

onion

Roughly chopped

4

cloves

garlic

minced

1

tbsp

fresh ginger

(2 tsp if powdered)

1/2

tbsp

coconut oil

or your vegetable oil of choice
Spices
1 1/2

tsp

ground cumin

1

tsp

ground turmeric

1

tsp

ground paprika

1

tbsp

green curry paste

1/4

Cup

Vegetable Soup Blend

 1 oz of it is about ½ Cup
Liquid
3

Cups

vegetable broth or water

1

Cup

canned coconut milk

full fat

Sea salt and black pepper to taste

1/3

tsp

red pepper flakes optional
Instructions
Rinse lentils under running water with a strainer.

Chop the onion, garlic, and ginger (plus any other veggies you'd like to use. I suggest butternut squash or sweet potatoes).

Chop the onion, garlic, and ginger (plus any other veggies you'd like to use. I suggest butternut squash or sweet potatoes).

Add all spices, vegetable soup blend, the lentils and 3 cups of vegetable broth or water. Bring to a boil and let simmer for about 10 minutes.

Finally, add coconut milk and cook for a further 5 minutes or until the desired thickness of the dahl is reached.

Season with black pepper and salt to taste. Adjust the seasonings as needed.

Serve warm with basmati rice, potatoes or flatbread and garnish with fresh herbs. If you want to be fancy, top with cilantro.