Hello Everyone! Here are the happenings at the Emporium for the next 2 weeks!
* New Feng Shui and Chakra Incenses! Also check out our NEW Chakra Ayurvedic oils!
* New energy healer available, Lieben Mohler! He will also be leading our montly healing circles – check out our schedule for more information!
* Featuring gorgeous hand-crafted wands by Autumn Austin!
* Large Jewelry Sale on July 5th and 6th in honor of the Fourth of July!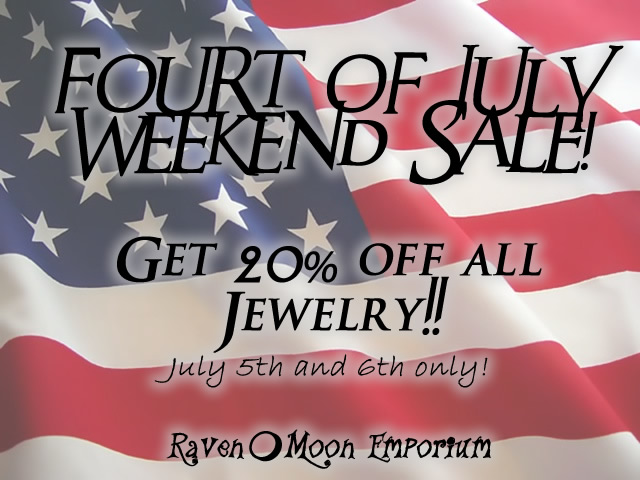 Events for the next 2 weeks:
June 24th – Learning to Meditate with Lady Raven – Whether you are new to meditation or a seasoned practitioner, join us in the amazingly relaxing class! $25
July 26th – Group Meditation with Lady Raven – Come join us for our monthly Meditation session! $15
July 28th – Basics of Smudging, with Lady Raven – New to Smudging or just looking to learn more? This is the class for you! $30
July 1st – Wicca 1 with Lady Raven – By popular demand we are starting a new session of our Wicca 1 class! This is a 6 month class which will take you through all of the basics of Wicca. $250
July 5th – 6th – Jewelry Sale! 20% off all Jewelry!
July 6th – Beginning Psychics – come practice your craft or get a reading for budding new psychics! Looking to hone your skill or find a  new perspective – come join us! $5
And here is our Coupon Gift to you!