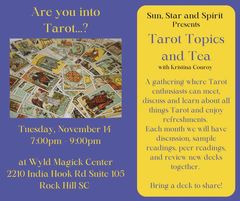 Until

14 Nov, 09:00 PM
2h
Tarot Topics and Tea
Wyld Magick Center
2210 India Hook Road, Suite 105 Rock Hill, SC 29732
Organized by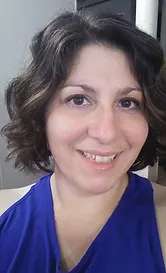 Kristina Conroy
A gathering where Tarot enthusiasts and readers of all levels can meet, discuss and learn all things Tarot! Tea and other refreshments will be provided.
Each month we will potentially include discussion, peer readings, review new decks and share successes and challenges with our Tarot and Oracle card experiences.
Bring a card deck to share or learn about. Some chairs are available or you may bring your own chair.
Registration and admission is free! We do ask that you fill out the registration link so we can plan for the number of people we will have.
Energy exchange suggested only if you feel called to offer donation of any amount. Venmo or cash only.